This is kind of sad. I kept my mustache when I shaved my beard, but it is so light that when I wash my face it looks like I didn't rinse all the soap off.

Song of the day, "U.P.S My Heart to You" by Mojo Nixon and the Toadliquors.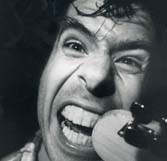 Mojo Nixon sans Toadliquours

Lucinda Williams is my favorite singer, be they female, male, androgynous, or automaton.


Lucinda Williams

Speaking of chick singers, Liz Phair's, "Exile in Guysville" is one of my favorite CD's


Liz Phair